Family course
We offer families a fun holiday opportunity, combining sightseeing and activities with a chance to learn the English language and experience a new culture, in a relaxed environment.
Please note: this course is only available for students travelling with a family member or an accompanying adult.
We welcome families from all over the world; Spain, Italy, France, Russia and Japan. Every family is different and we have developed our courses to facilitate this by giving several options to our visiting family students.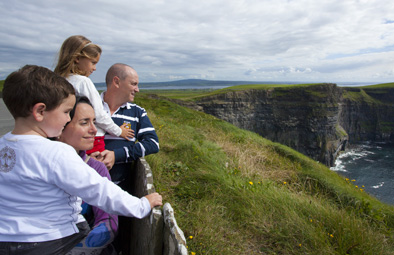 WHY CLC?
Ennis is a safe, friendly town perfect for a family holiday

You can learn together and know that your child is being well taken care of

Young children (under 12) are based in the same building as their parents

Adults join our small group (maximum 6) Semi-intensive Course (9.30 – 13.00)

Teenagers (12 to 17 years old) can take the Family Course OR they can take our Junior English and Activities Course from 9.15 to 17.15 each day

We offer courses at Easter as well as in July and August so you can holiday during your children's school holidays

Fun activities and excursions are also available
Family course
15 hours of group tuition per week (adult course maximum 6 per class)

All teaching materials included

Diploma on completion of course

Welcome presentation and orientation tour

Optional excursions available each week

Registration and Administration Fees
Family course
Age for Kids: 5 -17 year olds*
Tuition: 15 x 60 minutes of classes per week
Times for adults & 5 – 12 year olds: 09:30 – 13:00 with 30 minute break
12 – 17 year olds: 9:15 – 12:45
(with optional activities Monday to Friday)
Class size adults and under 12 year olds: Max 6, average 4
Class size 12 – 17 year olds: Max 15, average 12
Duration: Minimum 1 week
Dates Easter: 11th to 22nd April 2022
Dates Summer: 18th July to 19th August 2022
Levels: Elementary to Advanced
Price per week : 235€ per student
Wednesday half day excursions available for 25€ per student
Saturday full day excursions available for 35€ per student
Contact [email protected] for details about junior courses for 12 to 17 year olds for family students
*ELE for young learners (10 years old or less) is not included in the ACELS recognition scheme